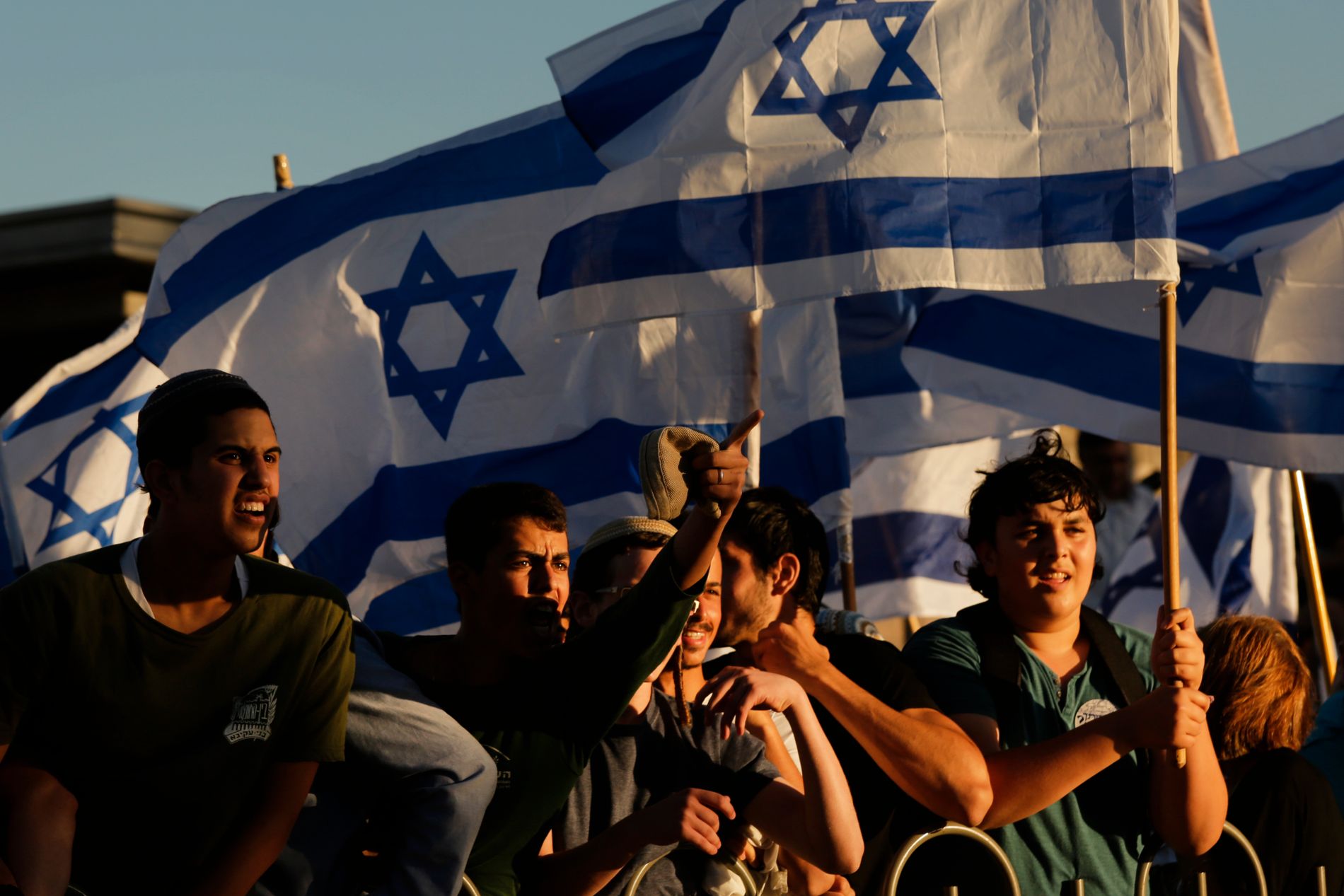 Jewish right-wing nationalists, some of whom shouted "death over the Arabs," marched through the old city of Jerusalem to the protests of Palestinian leaders.
Jewish right-wing nationalists, mostly young people with blue and white Israeli flags, danced to loud music and sang religious songs. At one point, dozens of young people sang "Death to the Arabs" and "Let your village burn down."
The Palestinians in Gaza responded by referring to the balloons that caused at least ten fires in southern Israel.
Earlier, 2,000 Israeli police officers were summoned in connection with the controversial march, which was large but appeared to be significantly smaller than what took place in May.
According to the Palestinian Red Crescent, 33 Palestinian protesters were wounded in clashes with police at the Damascus Gate, none of them seriously injured. Two police officers were injured. A total of 17 Palestinians were arrested.
Israeli police allowed right-wing nationalists to march on the main road in occupied East Jerusalem to the Damascus Gate leading to the Old City. They were not allowed to use the gate, but were allowed to hold the so-called flag dance outside.
The Israeli army had sent reinforcements to the occupied West Bank and increased readiness along the border with Gaza.
The so-called flag parade is usually on May 10, 1967, the anniversary of Israel's occupation of East Jerusalem.
Ended with the war
This year, 260 Palestinians were killed and 13 on the Israeli side in the eleven-day war between Israel and Hamas in violent clashes between Israeli security forces and Palestinian opponents.
One of the last things Prime Minister Benjamin Netanyahu's government did before stepping down last week was to give the green light to right-wing nationalists to launch a new attempt to march.
Israel's new government confirmed the decision on Monday, hailed by some Israeli commentators as an attempt to fuel the Netanyahu conflict, with Prime Minister Naphtali Bennett's weak coalition split and regaining power.
Provocation
Palestinian Prime Minister Mohammed Shtaye says the march was a provocation.
"We warn against the dangerous consequences of allowing occupying forces to carry out a deadly march of radical Israeli settlers," he tweeted on Monday.
Hamas, which holds power in the Gaza Strip, called on the Palestinians to "brave resistance" and call for demonstrations in the old city.
"We must stand with the occupiers and oppose them in every possible way to prevent crime and their aggression," the Hamas leadership said in a statement.
The United States has also warned against holding the march.
– In our opinion, it is absolutely important that you do not take steps to increase tension. We have all seen what triggered the latest outbreak of violence and we all know how gentle the situation is, a U.S. State Department spokesman said earlier this month.
Right-wing extremists
One of those most eager to hold the march was Bezalel Smodrich, the leader of the far-right Zionist party.
Smodrich, who was transport minister in Netanyahu's government for years, has issued a number of controversial statements and plans calling for Israeli security forces to "shoot" Palestinian stone-throwers.
The Jewish Power Party, which is made up of supporters of the late rabbi and right-wing extremist Mir Kahane and his party Kutch, who was branded a terrorist in Israel in 1988, has also pulled the strings.
Party leader Ittamar Ben-Kvir has a provocative figure on the right, a picture on the living room wall of mass murderer Bruch Goldstein and has spoken out in support of denying Christians he describes as "bloodthirsty vampires.